What is Screen Mirroring?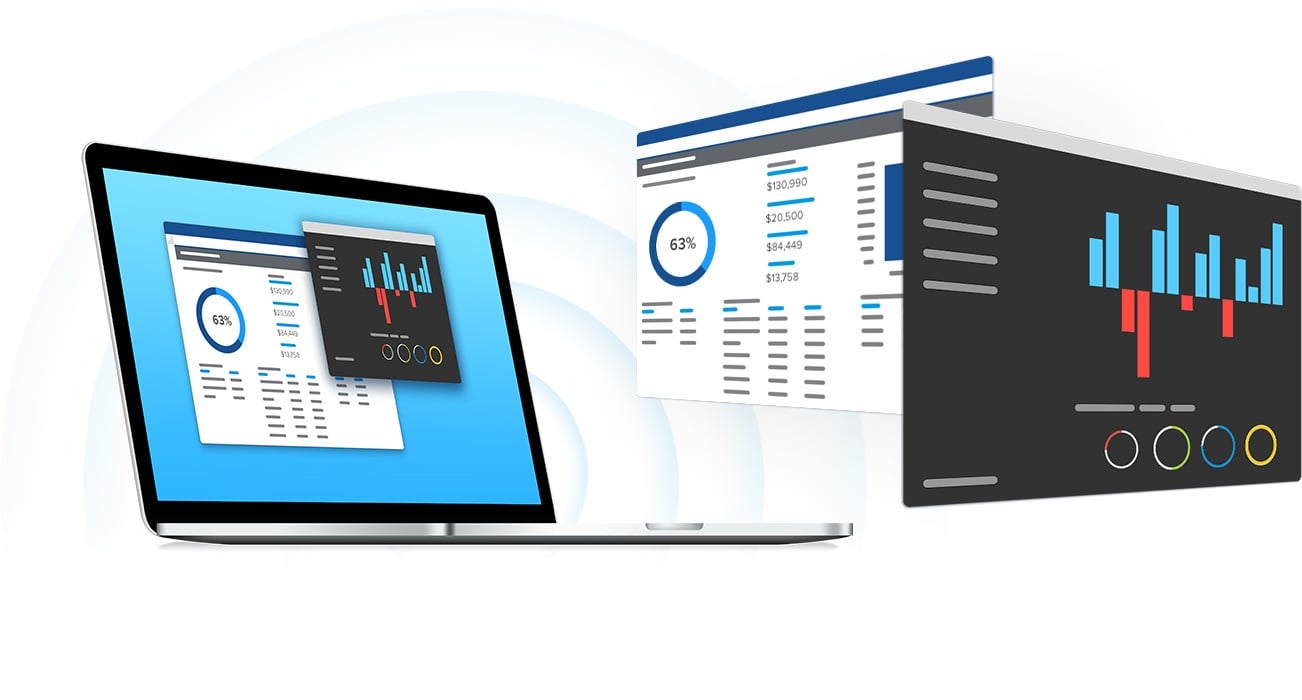 Screen-mirroring technology allows a phone, tablet or computer screen to wirelessly appear on another device screen. Screen mirroring is frequently used during meetings, presentations and lectures to easily display relevant content to others in the room.
What screen mirroring is not
Screen mirroring is not an online meeting, desktop sharing or video conferencing software like GoToMeeting or join.me. Rather, screen-mirroring technology requires devices to be on the same Wifi network and generally in the same room for viewing purposes. Since connections are point-to-point and remain on the local network, screen data never crosses the internet.
How screen mirroring works
Screen mirroring requires a screen-sending technology such as Apple's AirPlay or Google's Google Cast and a screen-receiving technology such as Apple TV or Chromecast.
Screen-mirroring connections can be established in a number of ways based on the devices involved. Different devices come equipped with different native screen-mirroring technology, and therefore do not always share the same compatibility. This is an issue for businesses and schools using multiple device types. Third-party screen-mirroring solutions with cross-platform compatibility like Ditto help bridge the gap.
Here's how screen mirroring differs among popular devices:
iOS devices: Use native AirPlay by swiping up from the bottom of the iPhone, iPad or iPod Touch. Select "Screen Mirroring" to view a list of available AirPlay receivers. Compatible AirPlay receivers to screen mirror iOS devices include Apple TV and Reflector-enabled devices.
Chromebooks: Use native Google Cast technology built into the device by right clicking on the user icon in the bottom right-hand corner of the Chromebook desktop. Select "Cast Devices Available" and choose from the list of available receivers to mirror to. Compatible Google Cast receivers to screen mirror Chromebooks include Chromecast and Reflector-enabled devices.
Android devices: These devices use Google Cast with the free Google Home companion application located in the Google Play store. Compatible Google Cast receivers to screen mirror Android devices include Chromecast and Reflector-enabled devices.
macOS: These devices can screen mirror or stream content using built-in AirPlay (only available on Apple laptops released in 2012 or later) to Apple TV or Reflector-enabled devices, such as Windows computers, Android devices and Amazon Fire TV. Third-party screen-mirroring software such as Ditto allows Mac users to mirror or stream content to Chromecast, Apple TV or Reflector-enabled devices with features not provided by standard AirPlay.
Windows: These devices are not equipped with native screen-mirroring technology. However, the Ditto screen-mirroring solution allows Windows users to mirror and stream content to Apple TVs, Chromecasts and Reflector-enabled devices.
Note: iPhone X users need to swipe down from the top of the screen to select Screen Mirroring.
Who uses screen-mirroring technology?
Educators, business professionals and general consumers use screen-mirroring technology for in-class content sharing, collaboration, meetings and home entertainment.
Education
Screen-mirroring technology is used in K-12 and higher education to promote collaboration, display student work and add mobility to instructional delivery. Screen-mirroring solutions that have cross-platform compatibility are ideal for education settings because a wide number of device types are used in schools.
Business
Professionals often need to share presentations or reports, brainstorm and collaborate during meetings using screen-mirroring technology. Similar to schools, companies utilize multiple devices types. They often require a screen-mirroring solution with cross-platform compatibility.
Home entertainment
General consumers mirror and stream movies, videos, photos, mobile gameplay, music and more from their devices to TVs with a compatible receiver.