What is Screen Mirroring?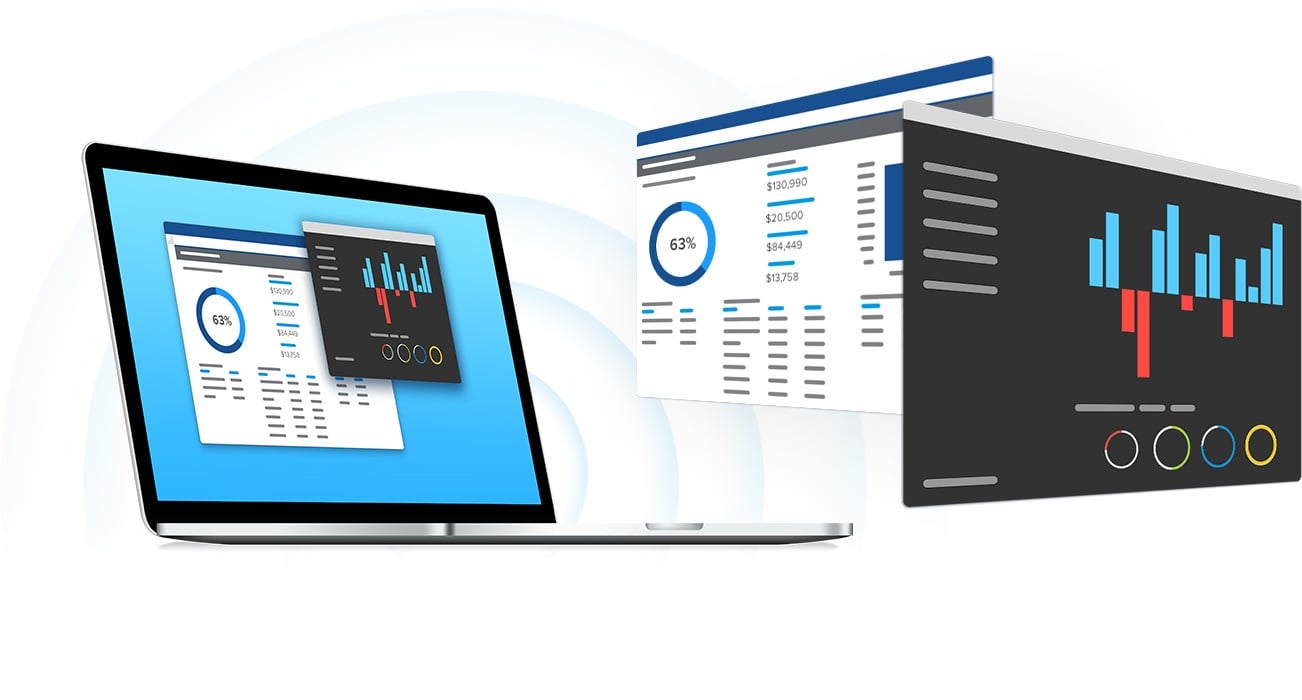 Screen-mirroring technology allows a phone, tablet or computer screen to wirelessly appear on another device screen. Screen mirroring is frequently used during meetings, presentations and lectures to easily display relevant content to others in the room.
What screen mirroring is not
Screen mirroring is not the same thing as online meeting software, desktop sharing software or video conferencing software, such as GoToMeeting or join.me. Rather, screen-mirroring technology usually requires the sending and receiving devices to be on the same network and generally in the same room for viewing purposes. Since connections are point-to-point and remain on the local network, screen data never crosses the internet.
There are some exceptions where the devices are not required to be a part of the same network. More information on that can be found below.
How screen mirroring works
Screen mirroring requires a screen-sending protocol. Great examples of this are Apple AirPlay and Google Cast. It also requires a screen-receiving receiver, such as Apple TV or Chromecast.
Screen-mirroring connections can be established in a number of ways based on the devices involved. Different devices are equipped with various types of native screen-mirroring technology (such as AirPlay and Google Cast) and therefore do not always share the same compatibility. For instance, Windows devices are equipped with Miracast rather than AirPlay. This prevents Windows devices from wirelessly connecting to Apple TVs. These technological barriers cause issues for businesses and schools that deploy and use multiple device types.

Third-party screen-mirroring solutions with cross-platform compatibility like Ditto help bridge that gap.
Screen Mirroring with iOS, Chrome OS, Android, macOS and Windows
iOS devices: Use native AirPlay on iPhone, iPad or iPod Touch. Open Control Center, select "Screen Mirroring" to view a list of available AirPlay receivers. Compatible AirPlay receivers for iOS device screen mirroring: Apple TV and Reflector-enabled devices.

Note: Swipe up from the bottom of the screen to access Control Center on iPad running iOS 11 or older, iPhone 8 or older and iPod Touch. S

wipe down from the upper-right corner of the screen

to access Control Center on iPhone X, iPhone Xs, iPhone Xr and iPad running iOS 12 or later.

Chromebooks: Use native Google Cast technology built into the device by right clicking on the user icon in the bottom right corner of the Chromebook desktop. Select "Cast Devices Available" and choose from the list of available receivers to mirror to. Compatible Google Cast receivers for Chromebook screen mirroring include Chromecast and Reflector-enabled devices.
Android devices: These devices use Google Cast with the free Google Home companion application located in the Google Play store. Compatible Google Cast receivers for Android device screen mirroring include Chromecast and Reflector-enabled devices.
macOS: These devices can screen mirror or stream content to Apple TV using native AirPlay (only available on Apple laptops released in 2012 or later). Additionally, Reflector turns Windows computers, Android devices and Amazon Fire TV into compatible AirPlay receivers.

Note: Third-party screen-mirroring software such as Ditto and AirParrot allow Mac users to mirror or stream content to Chromecast, Apple TV or Reflector-enabled devices with additional features not provided by standard AirPlay.
Windows: Newer Windows devices and old Android devices use Miracast screen-mirroring technology. Compatible Miracast receivers for Surface Pros and other Windows devices include the Microsoft Wireless Display Adapter, Amazon Fire TV stick (sometimes) and Roku, to name a few. Neither Google nor Apple support Miracast. However, the Ditto screen-mirroring solution allows Windows users to mirror and stream content to Apple TVs, Chromecasts and Reflector-enabled devices.

In general, the Miracast protocol is not as straightforward as its AirPlay and Google Cast counterparts. Knowing which devices use Miracast, which receivers they can connect to and the performance of those connections will require some research for the end user.
Who uses screen-mirroring technology?
Screen mirroring is used in schools, homes and businesses for in-class content sharing, collaboration, meetings and home entertainment.
Education
Screen-mirroring technology is used in K-12 and higher education to promote collaboration, display student work and add mobility to instructional delivery. Screen-mirroring solutions that have cross-platform compatibility are ideal for education settings because a wide range of device types are frequently used in schools.
Business
Professionals often need to present content to a big screen during meetings. Screen mirroring technology makes it easy to share presentations or reports, brainstorm and collaborate in the places they meet, like conference rooms, huddle spaces and common areas. Similar to schools, companies deploy multiple devices types. An organization's wireless presentation solution must accommodate the devices its employees — and guests — use. This requires a screen-mirroring solution with cross-platform compatibility, such as Ditto.
Home entertainment
General consumers mirror and stream movies, videos, photos, mobile gameplay, music and more from their devices to TVs with a compatible receiver. Popular consumer screen mirroring software includes AirParrot and Reflector.
Screen mirroring across networks
Traditionally, the sending and receiving devices must be on the same network to screen mirror. However, there are times where an organization may need certain devices and receivers on separate networks for security purposes. For instance, an organization may have a separate network for guests to avoid having guest network traffic on the main network. This would make connecting to a receiver, such as an Apple TV, impossible for guests.
There are a couple of ways to resolve this problem. Organizations will often open specific network ports for local communication between the networks. For some cases, multicast or Bonjour Forwarding may be required as well. Taking these steps will enable screen mirroring between networks. However, this solution does not work for all organizations. Some organizations cannot open network ports due to security and legal obligations.
Fortunately, our screen mirroring experts worked with high-profile engineering and IT teams at these organizations to develop technology that allows devices on separate networks to screen mirror without opening network ports and without requiring any user information to cross the internet. It makes connecting simple for the end user and keeps networks secure.
Want to know more? Talk to our team to learn more about screen mirroring and how it can meet your needs.
Last updated 12/19/2018