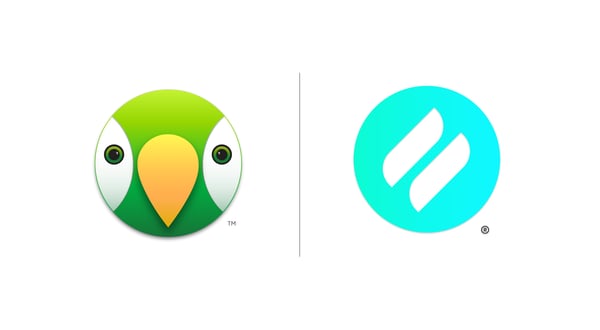 Ditto or AirParrot — which screen mirroring solution is right for you? This guide will help you decide which Squirrels product fits your needs best.

Prefer to skip the article and chat with a real person instead? Ask us anything.

Key Takeaways
Ditto is an all-in-one wireless screen mirroring software solution, complete with sender and receiver apps, that utilizes Squirrels' own screen mirroring protocol.
AirParrot is screen mirroring software that adds AirPlay and Google Cast sending capabilities to existing devices.
Ditto is a business and education software solution, built for the spaces where people meet, present and learn. AirParrot is a budget-friendly option that's ideal for consumer use and small-scale office and classroom deployments.
AirParrot costs $18. Ditto costs $150/year.
Ditto is priced per room. AirParrot is priced per user and requires a software license for every device.
Wireless Software
Both Ditto and AirParrot are screen mirroring software solutions.
Ditto is an all-in one, secure, scalable solution for businesses and schools. It allows anyone to present a wide range of devices wirelessly to the TV or primary display in a room.
AirParrot software is used on computers to wirelessly stream media and send screens to wireless receivers. With AirParrot, users can screen mirror and send audio and video files to receivers that accept AirPlay and Google Cast protocols, such as Apple TV, HomePod, Chromecast and others.
The Fundamental Difference: All-in-One or Halfway There?
Screen mirroring requires two operations. One device (such as your laptop) must send its screen. Another device (such as a computer or TV) must receive and display the sender screen. Learn more about how screen mirroring works here.

AirParrot is a sender. It runs on Mac and Windows computers and sends those screens to other devices. AirParrot does not receive or display device screens. Wireless receivers that use AirPlay and Google Cast receive and display connections from AirParrot.

Ditto is an all-in-one cross-platform solution — both sending and receiving is built in. Users send screens with the Ditto Connect app. TVs and computers receive and display device screens using Ditto Receiver software.

One advantage of Ditto is that it doesn't rely on AirPlay or Google Cast protocols to screen mirror. Those protocols require a number of open network ports while Ditto uses its own proprietary screen mirroring protocol that doesn't compromise network security. Ditto screen mirroring is faster, more stable and more secure.
Compatibility
Both Ditto and AirParrot allow numerous devices and platforms to screen mirror.
Wireless Screen Mirroring – Compatible Sender Devices
Mirror these device screens using Ditto and AirParrot.
Ditto:

AirParrot:

✔

Windows

✔

Windows

✔

macOS

✔

macOS

✔

iOS

✔

iPadOS

✔

Android

✔

Chrome OS
Wireless Screen Mirroring – Compatible Receiver Devices
These devices receive and display screens and media from Ditto and AirParrot.
Ditto:

AirParrot:

✔

Apple TV

✔

Apple TV

✔

Chromecast

✔

Chromecast

✔

Windows

✔

Apple HomePod
How Connections Work
Ditto
The TV or primary display shows a room code. Users enter the room code into the Ditto Connect app on their device. The device connects to the display.

Desktop users can initiate the connection process via the Ditto Connect webpage if they don't have the downloaded app.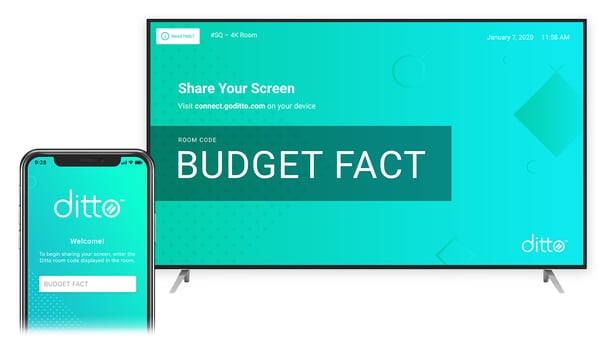 AirParrot
The AirParrot menu displays a list of available wireless receivers. Users select where they want to send their device screen from the list.

Using a web browser to initiate screen mirroring or media streaming with AirParrot is not available.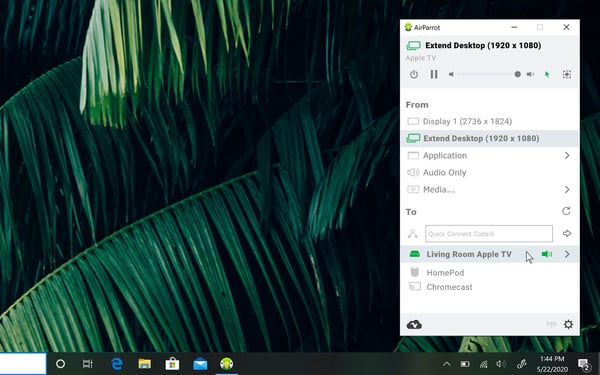 Which screen goes where?
Ditto automatically and instantly connects users to the right display. AirParrot users browse a list of available receivers until they find the correct receiver name from the menu.
Collaboration
Number of users
Ditto allows an unlimited number of users. AirParrot is limited to one user per license.
Number of connected devices
Ditto supports mirroring multiple devices simultaneously to the big screen. Up to four users can connect and share windows, apps and full device screens at the same time regardless of what device or operating system they use.

Most wireless receivers can only display one AirParrot connection at a time.
Features
Mirror specific windows and apps: Both Ditto and AirParrot users can screen mirror specific windows or applications, allowing users to show what they want and keep the rest of the desktop hidden.
Additional Features — Ditto
Display branding and connection information: Ditto receivers can be styled with company branding in addition to displaying connection instructions on screen. Ditto account admins can upload logos, background images and banners to brand every display and Ditto Connect app with organization-specific visuals.
Additional Features — AirParrot
Stream media files: Users can select a media file from their desktop and use AirParrot to stream it wirelessly to a receiver.
Extended desktop: Users can extend the desktop of their computer wirelessly to an AirPlay or Google Cast receiver.

Stream and mirror to multiple destinations: AirParrot users can select multiple receivers from the available list and screen mirror to all of them at the same time.