HDMI cables physically connect your device to a larger display so you can share what's on your screen. This sounds great in theory, but screen sharing via HDMI cables presents seven key challenges that forces schools and businesses to look for alternatives:
HDMI cables restrict mobility while sharing content
HDMI cables are often misplaced, broken or stolen
HDMI cables are often incompatible with device ports, requiring special adapters
Unclear connection instructions cause confusion among users
Cable clutter is messy and aesthetically displeasing
Complex, costly wiring is often required for tables, desks, floors and walls
Unexpected time and money is spent to replace cables and adapters
HDMI cables are outdated and problematic in collaborative environments. There are plenty of wireless presentation alternatives for schools and businesses looking to increase collaboration and productivity while reducing wasted time and unexpected costs. If you want to get rid of clunky HDMI cables for good, this brief summary of the most popular wireless alternatives will help you decide which option is right for you.
Want to skip the details and talk to us about our wireless presentation software right away?
Let's chat.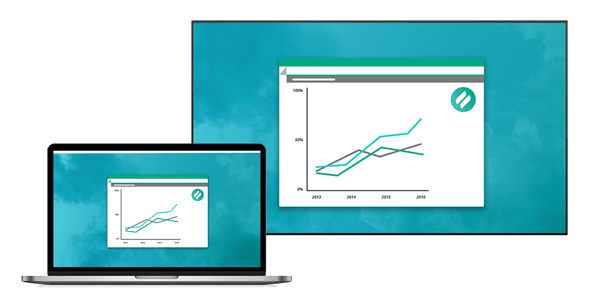 Presenting wirelessly: The basics
Wirelessly displaying a phone, tablet or computer screen to a TV, computer or other external display is called screen mirroring. This requires screen-sending and screen-receiving technologies.
For example, Apple developed AirPlay as its screen-sending protocol and built AirPlay-receiving capabilities into various hardware like Apple TV and Mac computers. Mac computers and iOS devices such as iPhone and iPad use AirPlay to wirelessly mirror content to Apple TV and other AirPlay receivers. It should be noted that macOS computers can use AirPlay to both send and receive mirroring connections.
Google screen-sending technology is called Google Cast (sometimes called Chromecast built-in or just Cast). Cast-enabled devices, such as Chromebooks, devices running the Chrome browser and many Android devices, wirelessly connect to Cast receivers such as Chromecast.
Learn more about how screen mirroring works: What is Screen Mirroring? Everything You Need to Know
Alternative 1: Digital media players
With tens of millions of combined units shipped, Apple TV and Chromecast are the most popular and successful digital media players on the market.
While they are prevalent in living rooms for entertainment, there are compatibility limitations to using Apple TV and Chromecast as screen mirroring receivers in school and business environments. These are places where, ideally, you want one simple screen-sharing connection process to make sharing simple and easy to understand for everyone.
Chromebooks, Android devices and Windows machines cannot natively connect to Apple TV because they are not equipped with AirPlay. Rather, they are equipped with Cast or Miracast protocols. Similarly, Apple devices cannot screen mirror to Chromecast (aside from Chrome browser tabs on macOS). In short, hardware equipped with different native screen mirroring protocols cannot communicate with each other.
Additionally, Chromecasts do not offer required security features for schools and businesses. These missing features include user customization settings, on-screen passwords/codes and proper network security capabilities.
Apple TV and Chromecast are great screen mirroring receivers for consumers to use at home. By themselves, however, these receivers are limited in functionality for diverse environments that need to accommodate many different device types..
Fortunately, it is possible to transform Apple TV into the robust wireless collaboration solution schools and businesses are looking for with a screen mirroring app called Ditto. This makes Apple TV compatible with all necessary devices and creates a secure and feature-rich wireless collaboration setup. .

Alternative 2: Screen mirroring software solutions
AirPlay and Google Cast protocols alone are not robust enough for schools and companies using a mix of macOS, Windows, iOS, Android and Chrome OS devices, and neither option provides collaboration-focused features.
Want to learn more about screen mirroring, find the most popular screen mirroring products and answer common screen mirroring questions? Read The Ultimate Screen Mirroring Guide.
Screen mirroring software solutions are often purpose-built for either home entertainment or wireless collaboration in school and professional environments. Wireless collaboration software offers far greater device compatibility, more features and are more customizable than what's offered by native built-in sharing protocols.
The best screen mirroring software for schools and businesses is an all-in-one solution that works in-tandem with the conference room setups you already use. Supplementing Apple TV, Chromecast and other devices with screen mirroring software such as Ditto provides a convenient and more advanced alternative to HDMI cables and adapters in conference rooms, classrooms and meeting spaces.
Ditto allows macOS, Windows, iOS, Chrome OS and Android users to share wirelessly to a number of compatible receivers. It delivers presenter-focused features that native AirPlay and Google Cast lack, such as the ability to moderate sharing, annotate shared content, and mirror entire screens, windows, apps or browsers. This keeps the focus on what matters most. Ditto also offers digital signage to keep displays active when you're not sharing wirelessly.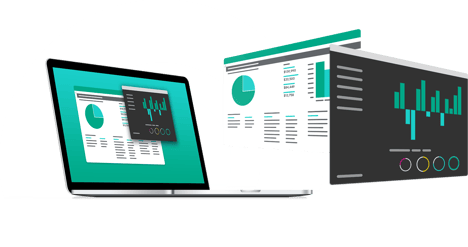 Alternative 3: Screen mirroring hardware solutions
There are proprietary hardware solutions that do not use digital media players like Apple TV or Chromecast for screen mirroring. These solutions require receivers to be plugged into the HDMI ports on TVs, similar to Apple TV and Chromecast. They may also require USB or HDMI transmitters plugged into computers or clunky, downloaded applications to connect to conference room displays.
Check out some of the most popular screen mirroring hardware solutions in the Best Screen Mirroring Products of 2023 eBook.
If you have the time and expendable IT manpower, hardware solutions can be a solid way to share data and present information. However, they tend to be much more costly and require lengthier setups and paid upgrades as companies release new hardware that makes existing hardware obsolete.
Proprietary hardware solutions are costly and could require the ongoing purchase and installation of new models as the trademark owner releases new hardware and updates.