Wireless Alternatives to HDMI Cables
There are many wireless presentation alternatives for schools and businesses looking to get rid of restrictive and clunky HDMI cables. This is a brief summary of the most popular wireless alternative types to help you decide which is right for you.
Want to skip the details and talk to us about our wireless presentation software right away?
Let's chat.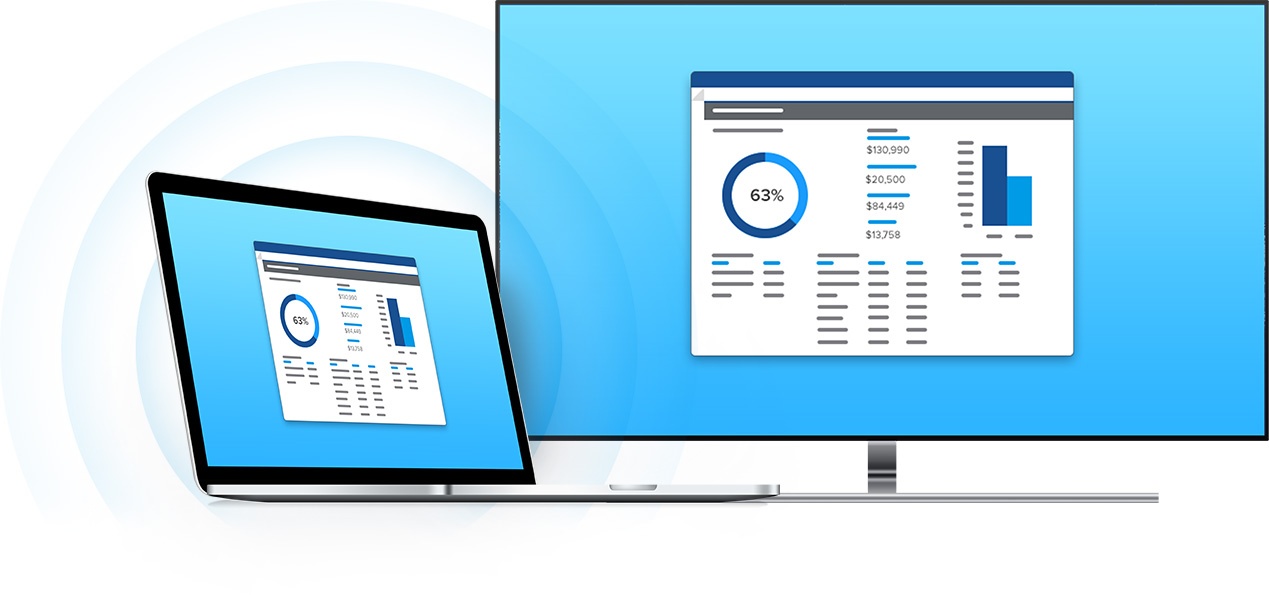 The basics of screen mirroring
Wirelessly displaying a device onto a TV, computer or other external display is called screen mirroring. This requires a screen-sending technology and a screen-receiving technology.
For example, Apple developed AirPlay as its screen-sending technology and the Apple TV as its screen-receiving technology. Macs and iOS devices such as iPhone and iPad use AirPlay to wirelessly connect to Apple TV and other AirPlay receivers.
Google's screen-sending technology is Google Cast. Google Cast-enabled devices, such as Chromebooks and devices running the Chrome browser can wirelessly connect to Google's screen-receiving technology, Chromecast.
Apple TV and Chromecast
With millions of combined units shipped, these are the most popular and successful screen-mirroring receivers on the market. However, there are some limitations to using Apple TV and Chromecast in school and business environments.
Windows devices cannot connect to Apple TV because they don't come equipped with AirPlay. Apple devices cannot screen mirror to Chromecast (aside from Chrome browser tabs on macOS).
Additionally, Chromecasts do not offer the security features that come with Apple TV. These features are required by most schools and businesses.
Apple TV and Chromecast alone are great screen-mirroring receivers for consumers to use as home entertainment. Schools and businesses couple these receivers with screen-mirroring software solutions to create an ideal setup for their diverse environments.

Screen-mirroring software
AirPlay and Google Cast are not robust enough for schools and companies using a mix of macOS, Windows, iOS, Android and Chrome OS devices, and neither option provides presenter-focused features.
Supplementing Apple TV and Chromecast with screen-mirroring software such as Ditto provides a convenient and more advanced alternative to HDMI cables and adapters in conference rooms, classrooms and meeting spaces.
Ditto allows macOS, Windows, iOS, Chrome OS and Android device users to screen mirror to a number of compatible receivers. It also adds presenter-focused features that native AirPlay and Google Cast lack, such as the ability to mirror an entire screen or a specific computer application to keep the focus on what matters most.
Proprietary hardware solutions
There are proprietary hardware solutions that do not use Apple TV or Chromecast for screen mirroring. These solutions require receivers to be plugged into the HDMI ports on TVs, similar to Apple TV and Chromecast. However, they may also require USB or HDMI transmitters plugged into computers or downloaded applications to connect to conference room displays. These solutions are often costly and could require the ongoing purchase of new models as the trademark owner releases new hardware and updates.
Going, going…..wireless
Going wireless for presentations using the features outlined above resolves the following issues cause by wired solutions in conference rooms, classrooms and meeting spaces:
HDMI adapter incompatibility
Complex floor and in-wall wiring
Misplaced adapters
Cable clutter
Connection confusion
Last updated 3/22/19