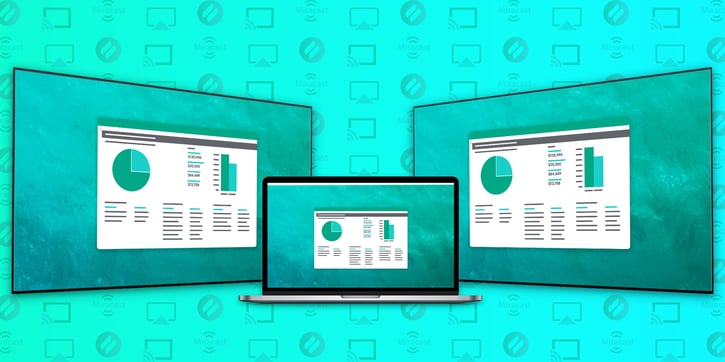 AirPlay, Google Cast, Miracast are three streaming protocols that let devices wirelessly share and stream content. IT departments, businesses, universities and schools use these to increase productivity and foster collaboration. However, none of them are a one-size-fits-all solution. This guide breaks down the pros and cons of AirPlay, Google Cast and Miracast and why your organization may need a better alternative.
Skip ahead:
Get help deciding the best screen mirroring solution for your needs. Read The Ultimate Screen Mirroring Guide.
First, what's a streaming protocol?
A streaming protocol is technology that allows data to be transmitted from one place to another. Often this software is built into devices like phones, computers and media players. In this case, a streaming protocol lets devices screen mirror and stream media to certain computers or wireless receivers, like an Apple TV, Chromecast and many other digital media players.
This technology uses codecs to compress media to make it easier to transmit. The protocol takes the compressed media and transports it to its destination. Once delivered, the codec decompresses the media, allowing it to be viewed or accessed by a user's device.
Become an expert in five minutes or less with this streaming protocol fast facts sheet.
Let's break down the three most popular streaming protocols and why you need an alternative:
AirPlay
The good:
AirPlay is Apple's proprietary streaming protocol. Simply put, Apple devices work great with AirPlay. iPhone, iPad and Mac can screen mirror via AirPlay to Apple TVs in just a few taps or clicks.
AirPlay automatically detects and differentiates between streaming content and screen mirroring. When screen mirroring, everything on a user's device, such as an iPhone, is duplicated onto a wireless receiver, such as an Apple TV, a TV with AirPlay built in or another type of AirPlay receiver. The TV or projector connected to the receiver displays the mirrored content from the iPhone in real time.
A different process occurs when a user streams content, such as playing a YouTube video on an iPhone while connected to an Apple TV. AirPlay automatically sends the content straight to the wireless receiver's display. The YouTube video won't play on the iPhone and receiver simultaneously because AirPlay is streaming the content, not mirroring in real time. This direct connection between the content provider and the receiver creates a clearer image on screen without quality loss.
The bad:
AirPlay's greatest strength is also one of its many weaknesses: AirPlay only natively works with Apple devices. That means while iPhone and MacBook can screen mirror to an Apple TV, Windows computers and Android phones cannot.
Additionally, large networks (especially in schools and businesses) struggle to support AirPlay. Bonjour and multicast must be enabled for AirPlay connections to work, and many organizations disable these services to keep their corporate networks secure and efficient. Bonjour quickly floods large networks with traffic, as it constantly looks to discover compatible devices and doesn't easily work across multiple subnets.
See how AirPlay measures up: get the tech specs comparison guide here.
Google Cast
The good:
Google Cast (or Chromecast built-in) is a streaming protocol developed by Google for Google products. It provides a simple way for a Google device, Chrome browser tab or app to stream and share content to another display when all devices are connected to the same network. Chromecast built-in technology is widely available in consumer products such as smart TVs, video game consoles and media players.
The bad:
Google Cast suffers the same insular problem as other popular streaming protocols: only Google products can use it. That means a Chromecast or other ad hoc Google Cast solution will only support Google devices, Android and Chrome operating systems, and some Google apps. A recent re-brand has also caused confusion: newer smart TVs enabled with the Google streaming protocol are labeled "Chromecast built-in" and do not use the term "Google Cast."
Chromecasts and other Google Cast solutions lack security features vital to schools and businesses both at the network level and for end users. Popular Google Cast receivers such as Chromecasts cannot be remotely managed. Google Cast connections cannot cross VLANS. Multiple ports must be opened on the network to allow Google Cast connections. Security for end users is limited only to an on-screen PIN code if enabled by an admin.
What can Ditto mirroring do that Google Cast can't? Find out with this quick guide.
Miracast
The good:
Miracast is another streaming protocol that shares content between some Windows devices and Android devices. Miracast devices can share content using Wi-Fi Direct, a technology that establishes connections between devices without a conventional internet connection or access point.

The bad:
Miracast is only compatible with certain devices running Windows or some Android operating systems. While older PCs and Android phones and tablets vary in compatibility, Apple devices cannot use Miracast at all.
Miracast's use of Wi-Fi Direct may seem beneficial to free up bandwidth on existing networks, but it can be prone to brute force attacks and is limited by poor security measures set by individual device manufacturers. Since most Wi-Fi Direct-enabled devices can also connect to the internet, attackers can potentially compromise and gain access to other connected surfaces, including entire enterprise networks.
Compare AirPlay, Google Cast and Miracast with this fast facts sheet.
The Best Alternative to AirPlay, Google Cast and MiracastDitto is the best alternative to AirPlay, Google Cast and Miracast.
Its adaptability, compatibility, network capabilities, security and scalability make it vital to IT departments, enterprises, schools and other organizations.
Ditto is an all-in-one screen mirroring solution. It encompasses the capabilities of AirPlay, Google Cast and Miracast into a more robust and efficient enterprise product. Administration is headache-free and users share screens with ease.
See Ditto's technical specs and how they compare with AirPlay, Google Cast and Miracast.
SSP: The adaptable streaming protocol
Ditto's proprietary streaming protocol, SSP, is the foundation of Ditto's screen mirroring technology. In addition to years of research and development, SSP is continually updated to remain the most flexible and powerful technology to encode, compress and transmit data. This enables it to adapt to whatever end devices and receivers organizations use with Ditto.
While AirPlay, Google Cast and Miracast protocols have undergone recent rebrands and updates, their underlying technology remains mostly the same as it was during their initial releases nearly a decade ago. These streaming protocols are efficient enough for home users, but were not developed and have largely not been updated for enterprise environments. SSP was built from the ground up to be nimble, efficient and keep complex networks operating smoothly and efficiently.
Compatibility
Ditto is compatible with virtually every widely used operating system. This is crucial for organizations that must accommodate numerous devices and policies. Devices running Windows, macOS, iOS, iPadOS, Android and Chrome OS can all wirelessly share their screens using Ditto. Every Ditto application on an end-user device operates the same way. The experience is consistent for users of all skill levels and simplifies the tech support process.
Administration and management
Ditto simplifies asset management and inventory — users don't need to worry if their device is compatible or not to share their screens. IT departments can deploy a single Ditto application to any user device without the need for extraneous hardware, cables or adapters.
Ditto offers zero-touch deployments with common MDMs such as Cisco Meraki and Jamf Pro. Admins manage everything remotely in a central account portal, including tracking usage stats and generating reports.
Network efficiency
Ditto screen mirroring happens when a user enters a room code into the Ditto app on their device. This room code is translated into a unique back-end connection that initiates screen mirroring. This process keeps networks operating smoothly and efficiently: there is no need to enable Bonjour or multicast to constantly flood the network with announcements.
Security and privacy
Ditto allows large, complex networks to remain locked down and secure. Opening multiple network ports and allowing VLAN access to public devices is not required for Ditto to work. Every display contains its own unique room code to ensure correct connections for end users and securely prevent unwanted interference.
See how Ditto benefits enterprise businesses here.
Final thoughts
To be truly effective in large-scale environments with numerous devices, organizations need a screen mirroring solution that maximizes the strengths of common streaming protocols while reducing latency, user frustration, connection errors and network flooding. AirPlay, Google Cast and Miracast work in small, consumer environments but were not developed for enterprise deployments and large, professional settings.
Ditto's efficiency and ability to maintain network security, paired with the powerful SSP protocol at its core, make it a truly great AirPlay, Google Cast and Miracast alternative that IT departments deploy across organizations large and small.
Get tech specs, compatibility breakdowns and feature comparisons between Ditto, AirPlay, Google Cast and Miracast here.
Last updated 6/25/2021