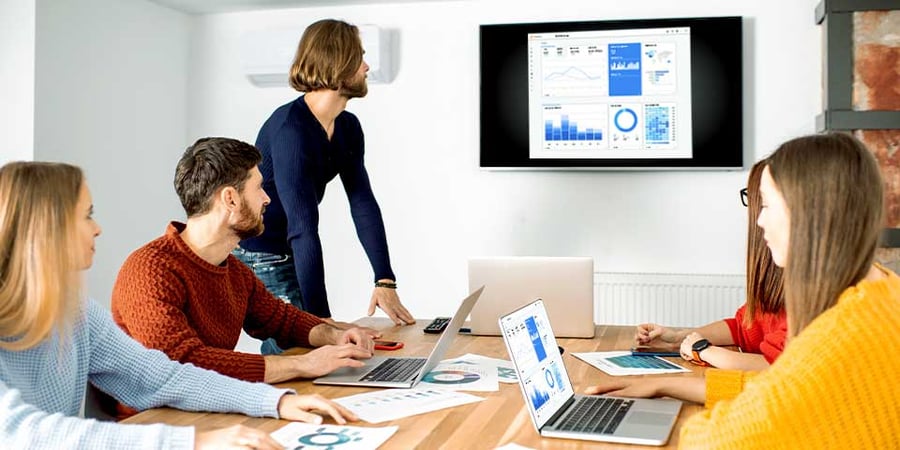 Welcome to the complete screen mirroring etiquette guide. Did you know there are good and bad ways to share content to a larger display during meetings, classes and presentations? You've likely been a witness to — or worse, responsible for — screen sharing blunders.
Follow the seven screen mirroring etiquette tips here to make any screen sharing experience more enjoyable, productive and potentially less embarrassing.
Become a screen mirroring expert. Read The Ultimate Screen Mirroring Guide.
1. Turn off notifications
Everyone has endured a distracting email, text, invite or other pop-up notification on the big screen during a meeting. It's usually accompanied by some sort of beep, ding or pop. Trust us, no one needs to see that private message from your significant other. It's 2023 and we're all just so tired. Notifications distract from your message and create disruptions.
Before mirroring your screen, adjust your device's notification settings or set it to Do Not Disturb. Fortunately, it's not difficult — this ultimate guide to turning off your notifications shows you how for every popular device.
Certain types of screen sharing software may do this for you. For instance, you can set macOS notification settings to automatically turn on Do Not Disturb when you begin screen mirroring with AirPlay. Wireless presentation software like Ditto mutes notifications on your computer as soon as you start screen sharing.
2. Clean your desktop
Keep your device's desktop or home screen clear and free from distractions. If you begin screen mirroring and the first thing the audience sees is a horrifying replica of your Aunt Mary's icon-stuffed, virus-laden Gateway PC from 2002, you might have more problems than this guide can help you with.
But it only takes a couple minutes to organize and clean up your screen.
A good rule of thumb is to move or delete every app or file on your desktop that you haven't used in one month. If you can't maintain a minimal desktop, at least keep your apps and files aligned to a grid. Most operating systems have a setting for this.
Pro tip: If decluttering or reorganizing your icon-laden screen is too much to bear, use an app or keyboard shortcut that hides everything on your desktop. In a few clicks or keystrokes, you can make everything disappear (and bring it all back at will), leaving nothing but a clean, icon-free background.
3. Customize how you screen mirror
If tip #2 brought you any anxiety, this should help: Say you have presenter notes open in a document that you don't want anyone to see, but you need to mirror other content on your device like images or a browser to the big screen. You don't have to show your audience your whole screen. You can share only the window or app you want and keep the rest of your desktop hidden.
Sometimes you have multiple windows open during a meeting and only want to share one of them. If the screen mirroring software you use supports specific app mirroring, you can share any single app or window instead of your entire desktop in just a couple clicks.