Screen Mirroring
In addition to digital signage, Ditto offers wireless screen mirroring to maximize the value of every display in an organization. Ditto users can screen mirror iPhone, iPad, Mac, Android, Chromebook and Windows devices to the same displays used for digital signage. Ditto transitions immediately from digital signage to screen mirroring and back to signage again as needed for a seamless experience.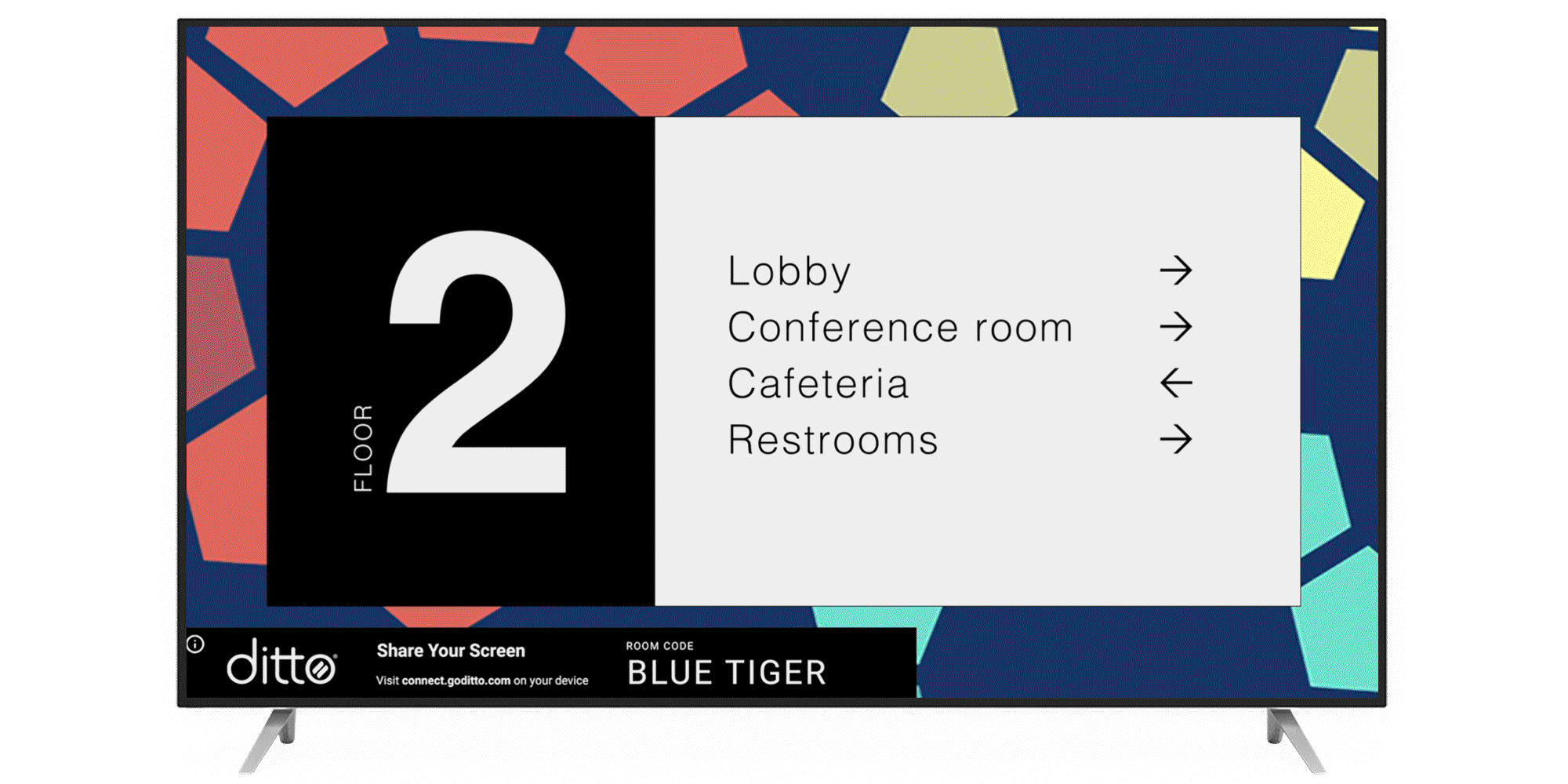 Ditto wireless screen mirroring is included with a Ditto subscription at no extra cost. Screen mirroring and collaboration tools are not available with Kitcast.
Learn about Ditto screen mirroring here.
Administration and Scalability
The Ditto account portal is a one-stop-shop to manage every aspect of Ditto: digital signage, screen mirroring and administration. It's a web-based application accessible from anywhere. Administrators can easily scale Ditto throughout any organization using Jamf Pro, Jamf School, Cisco Meraki or any number of other preferred MDMs. Zero-touch deploy and configure Ditto entirely remotely.
Average Ditto setup time with hardware already deployed: 2-5 minutes per media player.
Kitcast supports Jamf Pro to remotely manage or deploy software to Apple TVs. Android-based management solutions are currently in beta.
See what real IT administrators are saying about Ditto.
Cost
Both Ditto and Kitcast are priced on a per-media player basis.
Ditto: $150 per year per receiver (media player) — the complete price of Ditto software.
Kitcast: $300 per year per receiver (media player) — the complete price of Kitcast software.
Price breakdown
Despite not offering screen mirroring, Kitcast costs twice as much as Ditto.
It's likely that you already have a compatible Ditto media player and can begin using Ditto without purchasing any additional technology or equipment. It's also likely that you already have a Kitcast media player. However, Kitcast does force all displays to include a Kitcast watermark during a user's trial. Ditto includes a free, 30-day trial that is entirely full-featured and does not brand user displays with Ditto watermarks.
Get the complete cost of ownership chart here — it includes media players, TVs, subscription pricing and more.
Final Thoughts
Ditto and Kitcast both offer digital signage management and content creation services The core signage features these products have in common are similarly comparable and work well. Outside of core features, there are a few key things to consider.
Kitcast prioritizes a handful of widgets like weather, RSS feeds and other content that display real-time data, though Kitcast does not support emergency alerts. If you're looking to display social media feeds, news and the other available widgets — and have the budget to pay for it — consider Kitcast.
Ditto focuses on maximizing the value of an organization's devices with both digital signage and screen mirroring. Ditto allows for wireless collaboration and screen sharing in addition to robust digital signage templates, design and administration tools. Ditto can display manual and automatic alerts in any emergency. It offers any organization easy digital signage and user-friendly screen mirroring. If you're looking for a secure, affordable digital signage solution that makes the most of your spaces, go with Ditto.
Download the Ditto vs. Kitcast fast facts sheet full of bonus content: Tech specs, cost analysis, product reviews and more.
Updated on 1/4/21