Screen Mirroring — Ditto only
In addition to digital signage, Ditto offers wireless screen mirroring to maximize the value of every display in an organization. Ditto users can screen mirror iPhone, iPad, Mac, Android, Chromebook and Windows devices to the same displays used for digital signage. Ditto transitions immediately from signage to screen mirroring and back again as needed for a seamless experience.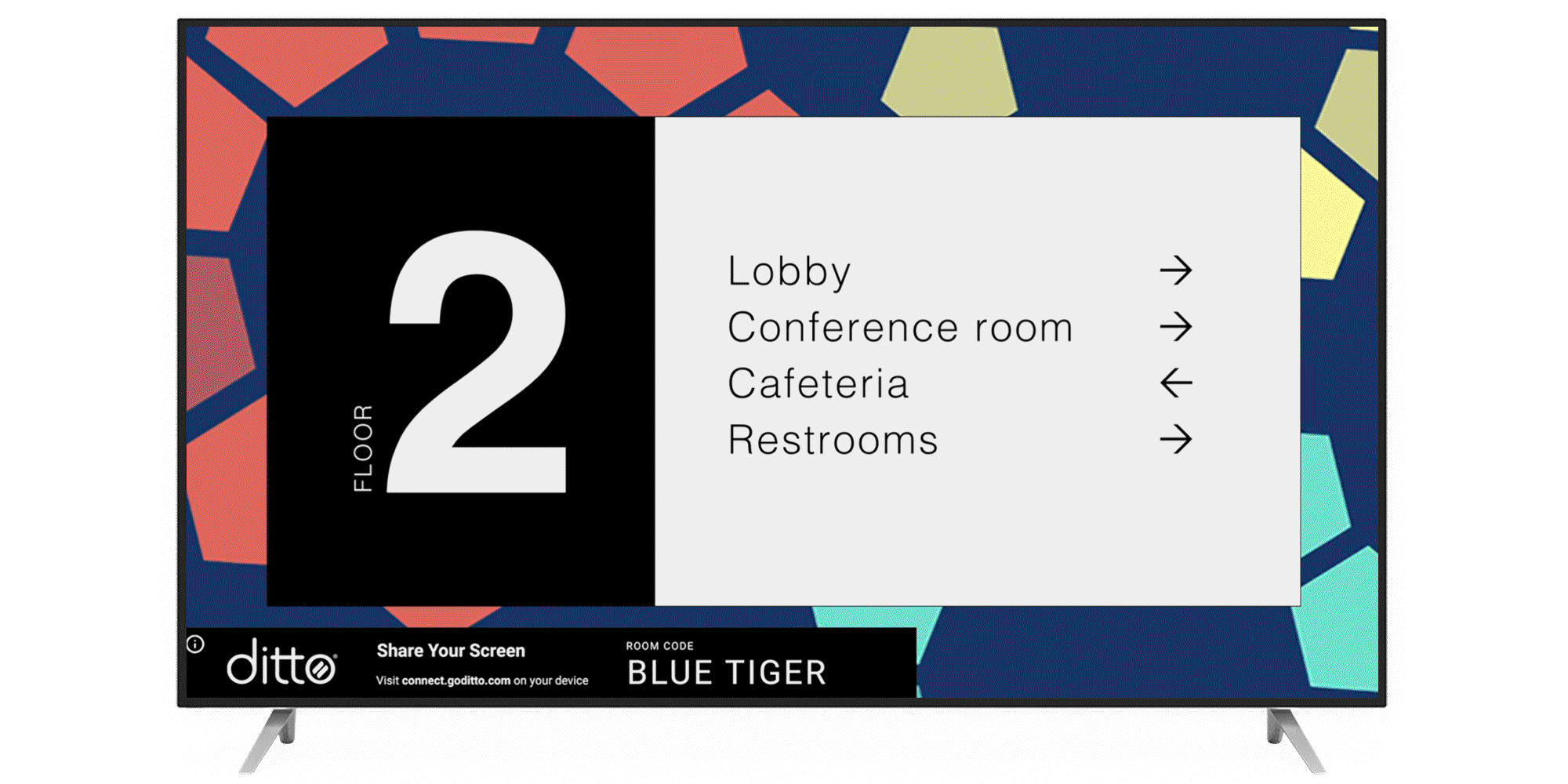 With Ditto:
Instantly switch from digital signage to screen mirroring and vice versa.
Mirror multiple devices to the same display at once.
Mirror to multiple displays at once.
Minimize contact with shared hardware, share screens and collaborate in safe, socially distanced settings in the age of COVID-19.
Ditto wireless screen mirroring is included with a Ditto subscription at no extra cost. Screen mirroring and collaboration tools are not available with Carousel.
Learn about Ditto screen mirroring here.
Administration and Scalability
The Ditto account portal allows you to remotely manage digital signage, screen mirroring and administration. It's a web-based application accessible from anywhere. Administrators can scale Ditto throughout an organization using Jamf Pro, Jamf School, Cisco Meraki or other preferred MDMs. This includes the ability to zero-touch deploy and configure Ditto.

Carousel supports Jamf to remotely manage or deploy software to Apple TVs and Chrome Enterprise to supported Chrome devices. Other MDM solutions are not supported.

See what real IT administrators are saying in our fast facts sheet.
Cost
Ditto is priced on a per-media player basis. Carousel pricing starts at a tier of 10 media players.
Ditto: $150 per year per receiver (media player) — the complete price of Ditto software, includes free support.
Carousel: $3000 per year per 10 receivers (media players) — the complete price of a Carousel Cloud plan, does not include paid training, support and other functionality.
Price breakdown
It's likely that you already have a compatible Ditto media player and can begin using Ditto without purchasing any additional technology or equipment. Ditto also includes free support and setup assistance.
Carousel requires a minimum subscription of 10 licenses for $3000 per year, equivalent to $300 per year per media player. If you require items in the following list, each item will be an additional fee on top of the annual Carousel Cloud subscription:
Carousel Express Players (screensaver feature): $2500 per year
Carousel Email + Phone Support (business hours only): $3000 per year
Carousel Training: $179-299 per user for 60 days
Carousel Training All Access: $5000 per 15 users per year
Get the complete cost of ownership chart in our fast facts sheet — it includes media players, TVs, subscription pricing and more.
Demo and Trials
Ditto includes a free, 30-day trial that is entirely full-featured. Users can deploy Ditto to multiple locations, customize signage templates, use signage alerts, screen mirror numerous devices and more for 30 days. With a trial, you can deploy Ditto to a physical display in real time for free.

A Carousel trial is free but only allows customers to test signage content creation. Users can trial the experience and UI of editing various templates and media but have no option to manage or deploy Carousel on a real TV or display. Multiple steps and sales calls are required to begin using or testing Carousel in an organization.
Final Thoughts
Ditto and Carousel both offer digital signage management and content creation services. Carousel focuses on content creation, while Ditto maximizes the use of every display an organization owns.
Carousel prioritizes content creation services like weather widgets, RSS feeds, clocks and a library of customizable templates that can be displayed on numerous devices and hardware. If you're looking to display social feeds, news and other content on devices — and don't mind the higher price tag — consider Carousel.
Ditto focuses on maximizing the value of an organization's devices with both digital signage and screen mirroring. Ditto allows for wireless collaboration and screen sharing in addition to robust digital signage templates, design and administration tools. Any display in an organization can become a digital sign, a collaboration hub with screen mirroring, or both. If you're looking for a secure digital signage solution that makes the most of your spaces, go with Ditto.
Download the Ditto vs. Carousel fast facts sheet full of bonus content: Tech specs, cost analysis, product reviews and more.