Which is Better for Screen-Mirroring: Ditto or AirTame?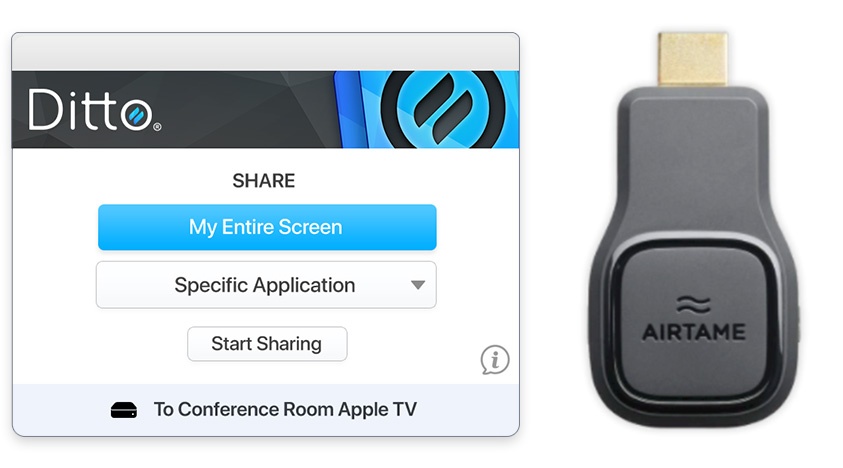 Screen-mirroring technology is quickly replacing cables and adapters in schools and businesses. Which screen-mirroring solution is right for you? Read our general overview of wireless alternatives to HDMI for a high-level summary of what's available. This article focuses on the key differences between Ditto and AirTame.
Prefer to skip the article and talk to us instead?
Software vs hardware
Ditto is a software-based screen-mirroring solution created for places where people meet and present. It wirelessly connects Mac and Windows users with well-established AirPlay and Cast receivers that are widely used in schools and businesses, such as Apple TV and Chromecast.
AirTame is a hardware-based screen-mirroring solution that was initially created to be a home-entertainment device. It wirelessly connects users to a proprietary HDMI hardware receiver and does not work with AirPlay or Cast receivers.
Analysis
Proprietary hardware solutions are often costly because of the design, materials, production and shipping price. These options may also require the ongoing purchase of new models as the trademark owner releases hardware updates and the older models become obsolete and unsupported. In this case, full company- or campus-wide deployments would need to be repeated. Software-based solutions do not present the same challenges, limitations and duplicated efforts.
Connection quality
Presenting without substantial lag time is critical to any meeting, lecture or presentation. Connection quality can vary drastically between proprietary hardware and software solutions based on the screen-sending and screen-receiving components. Ditto and AirTame are good examples of this.
Analysis
Ditto wirelessly connects to AirPlay and Cast receivers that have a history of success and reliability in meeting spaces. The popular Apple TV and Chromecast receivers are bound by the quality assurance standards of Apple and Google.
Proprietary hardware, such as AirTame, can present increased lag time and higher instances of connection failures that would derail a meeting. The development resources, quality assurance standards and experience of tech giants like Apple and Google compared to a young tech startup can yield notable differences in the finished product. This is especially true for corporate and education environments where scalability and reliability are critical attributes of any technology.