Connections, Speed and Quality
Presenting easily without substantial lag time is critical to any meeting, lecture or presentation. Connection quality varies between proprietary hardware and software solutions. Ditto and Airtame are good examples of this.
How devices connect
The screen mirroring experience is the same across all devices connecting to Ditto: Each Ditto receiver displays a unique room code. Users connect to Ditto by entering the room code into the Ditto Connect app. Ditto detects the device and automatically initiates screen mirroring.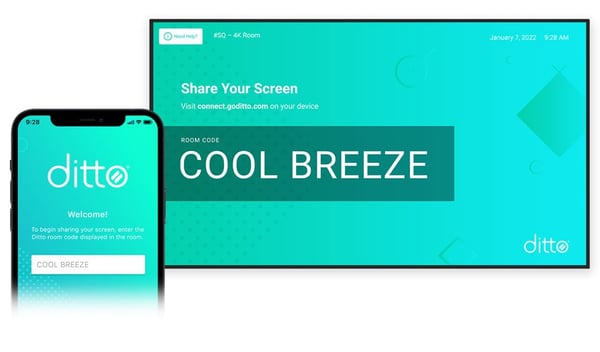 Airtame connections rely on several factors. Airtame receivers broadcast signals to user devices. For most devices, users must wait for their device to recognize and accept the broadcasted signal, enter an on-screen pin code, and then choose which type of connection they'd prefer.
Connecting to Airtame on mobile
For mobile screen mirroring, connections are disabled by default and must be enabled by an IT administrator in Airtame's admin settings. If you need full cross-platform mirroring with AirPlay, Google Cast and Miracast, the Airtame 2 device is required along with an Airtame Cloud subscription.
Using Airtame with iOS
The Airtame device broadcasts screen mirroring protocols that allow it to be used as an AirPlay receiver. Users must initiate screen mirroring natively on their iPhones or iPads to connect to Airtame, similar to the way users connect to an Apple TV.
Users cannot mirror their screens to Airtame with the iOS app. Additionally, mobile users cannot stream videos with the Airtame app, and animations inside slideshows will not play. Streaming certain static content from the app is supported, such as photos and some document file types like PDFs and slideshows.
It's important to note that Bonjour and Multicast must be enabled on your network for iOS screen mirroring to be possible with Airtame. Many universities and businesses disable Bonjour and Multicast for security and performance purposes. Ditto does not require any of these protocols to work.
Using Airtame with Android
Android devices that are compatible with the Airtame app have similar functionality to their iOS counterpart. They cannot mirror screens, users can only stream static content like photos and documents. Videos or animations in files are not supported.
Android users can mirror using their device's native mirroring protocols, namely Google Cast or Miracast depending on the device type. This process is inconsistent between devices and may be cumbersome for users.
Speed and Quality
Connection speeds
Connecting a device to a Ditto receiver is nearly instantaneous. The Ditto receiver accepts the room code without needing to look up device-specific network information, which saves time when connecting the devices.
Airtame uses a broadcast system. User devices must search for the Airtame broadcast signal on the network. Depending on network traffic, signal strength and network accessibility, this process can take several seconds or longer.
Display speeds
Latency indicates how long it takes the screen of one device to mirror to another display. Your specific network, receiver, personal devices and signal strength affect the output speed of any wireless presentation system.
These latency specs are representative of each product in an ideal presentation environment:
Ditto screen connections have latency of 30 milliseconds.
Airtame's connections have latency of anywhere between 400 milliseconds to 1 second.
Display quality
Resolution: Both Ditto and Airtame support mirroring at 1080p.
Frame rate: Both Ditto and Airtame support mirroring up to 60 fps.
Digital Signage
Ditto and Airtame both offer digital signage, allowing admins to feature content on their displays when users are not actively screen mirroring. Functionality differs for each:
Ditto Digital Signage
Ditto is an all-in-one platform used to design, customize and schedule content from one central place.
Ditto supports digital signage content up to a 4K resolution
Users customize pre-made digital signage templates or upload their own signage
A built-in content management system allows users to organize and disseminate signage
Includes integrated emergency alert functionality
Learn more about Ditto Digital Signage.
Airtame Digital Signage
Airtame displays content synced with its subscription cloud service. Most digital signage content must be created externally, such as with apps like Google Slides or paid services like Appspace, and then integrated with Airtame Cloud for changes to take effect.
Airtame supports digital signage content up to a 1080p resolution
A Cloud Lite subscription allows admins to set home screen images and URLs at no additional cost
Compatible with a handful of third-party apps and services
Users can schedule content and display sleep mode
Does not include customizable templates — design work is required
Does not include emergency alerts
One of these solutions costs an additional $120 per device per year. Get the complete cost of ownership breakdown here.
Now or later?
Many schools and conference rooms are already equipped with Macs, Windows PCs, Apple TVs or Chromecasts, which means you could begin sharing with Ditto today. Since Ditto can be deployed with common devices you already own, you won't have to spend the time or money to procure and purchase a proprietary hardware receiver from a manufacturer.
With any hardware device, you'll need to wait for a shipment to arrive and then manually deploy them across meeting spaces, which could take weeks in total.
Cost
Ditto and Airtame are priced on a per-receiver basis rather than a per-user basis. This drastically reduces the cost when many people need the ability to share content. The specific price points, however, are different:
Ditto: $150 per year per receiver. Requires no additional hardware, replacement parts or subscription services.
Airtame: up to $499 per receiver. Does not include additional hardware costs or premium subscription for full digital signage.
Get the fast facts sheet to see how much additional hardware + subscriptions cost.
How the price is broken down
Ditto is compatible with a variety of conference room technologies already used in businesses, universities and schools. That means you have the ability to use Ditto without purchasing any additional hardware. If you do require a wireless receiver, numerous options are available. Even if you decide to purchase a high-end option, such as an Apple TV HD (priced at $150), the total cost of Ditto, paired with a receiver, is $300 for one room. There are no additional charges or pricing tiers to use full-featured digital signage and screen mirroring with Ditto.
Airtame costs $499 for a single Airtame 2 device. Standard shipping to most locations is $25. Connecting your Airtame via ethernet with power sourced through the same cable (as the company recommends for reliable, stable performance) requires a proprietary PoE adapter. This adds an additional $119 per room. If you require a traditional ethernet connection, Airtame's proprietary ethernet adapter is $20 per room. If you need a regular extension cord without hardwiring, that's $19 per room. All of these accessories cost $25 for shipping to most areas. If your device's Aircord (Airtame's proprietary USB-C to USB-A and HDMI cable) needs replaced, the cost to replace it is $40 plus $25 in shipping fees.
Consider this:
Airtame charges a premium subscription fee for the full-featured use of its cloud service. This subscription is required for full digital signage. Airtame customers who need central management and digital signage in addition to basic screen mirroring will pay an extra $120 per year per device for Airtame Cloud Plus. A Cloud Lite subscription is offered without additional fees that includes device management and the ability to display a static home screen image or public URL on screen.
Without including premium services or subscription fees from Airtame, it would take four+ years for Ditto to reach the price of Airtame in one room. Airtame has demonstrated a production schedule of releasing new hardware every three years. In that case, customers will have to pay to upgrade all Airtame devices in all locations every three years in order to maintain the most up-to-date hardware and keep performance stable. The hardware costs and time to purchase, procure, deploy and maintain these devices must be considered to get a true estimate of the total cost.
Get the complete five-year cost to own for both Ditto and Airtame.
Summary
Ditto is a robust software ecosystem where desktop and mobile users alike can present consistently and cohesively across every major platform. Built-in digital signage and content management keeps everything accessible and in one central place. If you want to leverage a robust ecosystem of applications to present to proven, reliable receivers, go with Ditto. If you're looking for a hardware solution that focuses on desktop support and premium subscription-based features, go with Airtame.
Download the Ditto vs. Airtame fast facts sheet full of bonus content. Get tech specs, in-depth cost analysis, reviews and more.
Last updated 12/13/21