Aesthetic

HDMI cables are pretty. You just read a sentence that has likely never been spoken or written or thought in the history of mankind before this article. It's impossible for a cable snaking its way through your conference room to look good. You know it. Your clients know it. We all know it.
Reliability
High-traffic conference rooms host countless employees and guests every day. If just one of those people accidentally takes the cord with them on their way out, the next group is left without a way to present. It's a frustrating experience for everyone involved. More importantly, it's lost time and money.
The $5,000 to $10,000 wired conference room
An HDMI cable by itself is about as far from reliable as that one uncle who always says he'll "give you your birthday present the next time I see you." Still waiting, UNCLE JOHN.
What about a more advanced wired screen sharing solution? Is it possible to have everything mentioned above — compatibility, quality, reliability and visual appeal. Yes, absolutely.
Here's the catch: It comes with a price. It's shockingly easy to spend upward of $10,000 per conference room on a hard-wired screen sharing solution.
Shameless plug: Looking for a completely wireless screen sharing solution that offers everything you need at an affordable price? Try Ditto – an enterprise-level screen sharing solution for everyone.
HDBaseT
HDBaseT is the current global hardwired screen sharing standard. HDBaseT transmits high-definition video and audio, ethernet, USB, control and power over long distances (300+ feet) with a single Cat6 cable.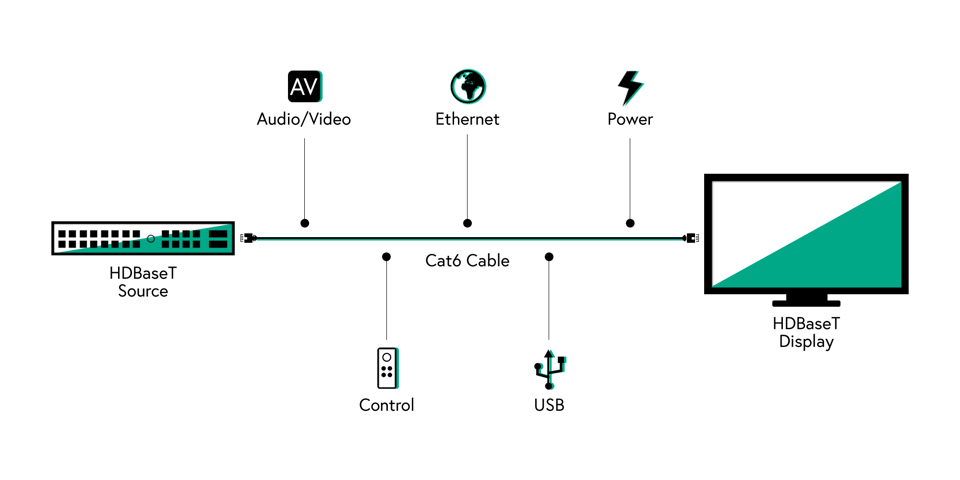 A common HDBaseT setup for a conference room places an HDBaseT transmitter in the conference room table. Users connect their devices to the transmitter via an HDMI outlet in the table. Compatible adapters or patch cords may be required to connect devices to the HDMI outlet.
A Cat6 cable runs from the HDBaseT transmitter to the HDBaseT receiver. An HDMI cord runs from the receiver to the TV or primary display.
Simply put: HDBaseT is an impressive wired screen sharing solution. What should you expect to pay to deploy an HDBaseT solution? Take a look.
Transmitter and receiver cost
HDBaseT transmitters and receivers can cost anywhere from a few hundred dollars to thousands of dollars depending on how robust the equipment is.
Cat6 cable cost
Cat6 cabling can cost less than $100. Factors include how much Cat6 cabling is required and where it's purchased.
Planning and installation cost
The largest costs are planning and installation. Most companies do not have the in-house resources to design and deploy a custom hardwired AV solution without consultants and contractors.
Running cabling through concrete floors requires on-site construction. Construction projects taking place in live workspaces require scheduling, coordination and a number of approvals. From start to finish the floor drill could take 30 to 60 days.
Construction costs alone will total $5,000. It's cheaper if the AV solution is deployed during original building construction rather than as part of a renovation project, but that's often not the case.
Hidden costs
Have you ever tried to do anything with a jackhammer jackhammering in the background? It's not what one would consider a positive experience. Construction causes distractions at work.
Where will on-site employees meet during construction? The conference room becomes a temporarily unavailable asset. Construction displaces workers and creates stress.
When construction is finished and the HDBaseT solution is ready to go, how will employees learn how to use the new equipment? Training is required. These outcomes are impossible to put a value on.
Total cost
Add it all up. The total cost of an industry-standard, wired screen sharing solution lands between $5,000 and $10,000 per meeting space.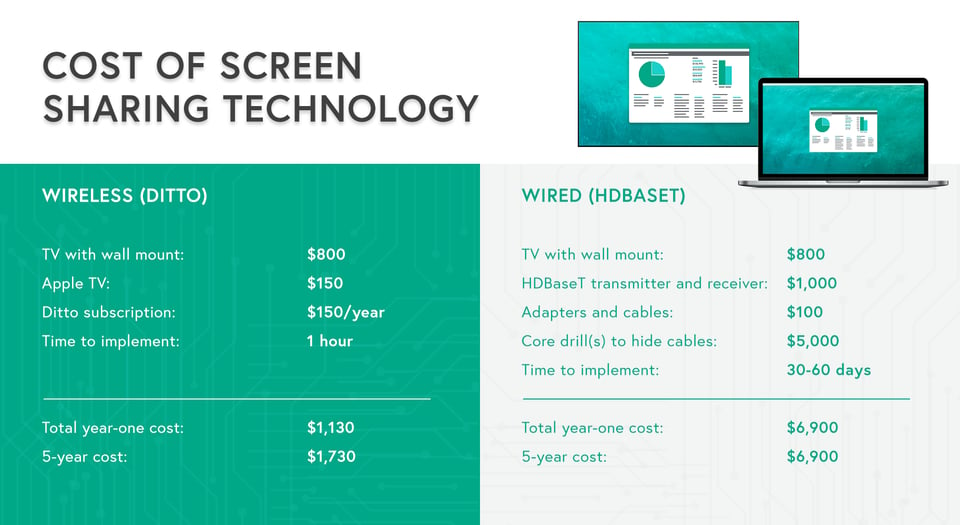 The future is wireless
Many companies today opt to cut cables entirely for wireless screen sharing solutions. Wireless technology like Ditto offers enterprise-level flexibility and reliability at a price that doesn't break the bank like most hardware alternatives.
Learn more about Ditto screen sharing today.
Updated on 8/6/19