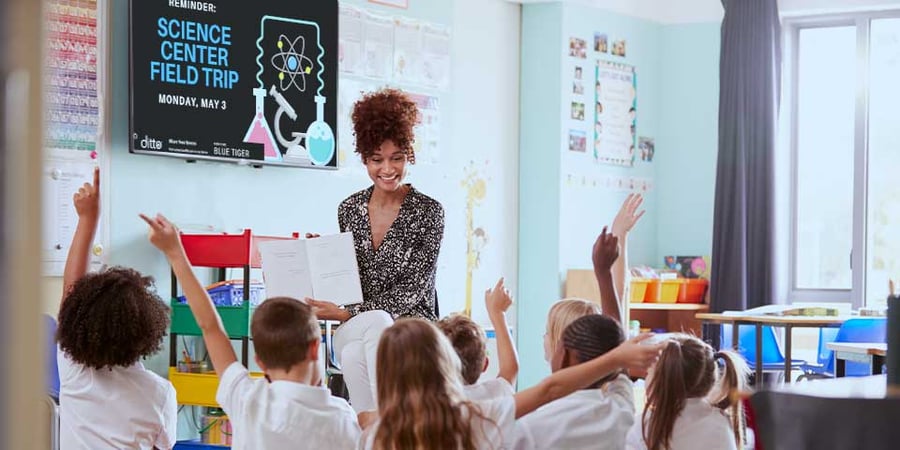 Digital signage is a sneaky-good way to boost instructional strategies and experiment with new educational technology methods in the classroom. Digital signage may not be top-of-mind when it comes to EdTech tools, but using engaging digital signage on your classroom displays will improve how educators deliver information to students.
If you're curious about how and why you should use digital signage on your classroom screens, you're in the right place.
For more crystal-clear knowledge about digital signage and how anyone can use it, check out this guide about digital signage basics.
What do you need for digital signage in your classroom?
Screen(s): You'll need some type of display in your classroom to show digital signage, like a TV, monitor or other digital display board.
Digital signage solution: There are many options for digital signage hardware or software. Digital signage software often runs on devices you already have in the classroom, like Apple TVs or Windows devices that are connected to your classroom displays.
Questions to consider: Is the solution compatible with my existing hardware? What signage features does it offer? These are questions your IT admin will want to answer before investing in digital signage. Don't worry, we'll name a solution later in this article that works with devices many classrooms already use.
Content: You'll need to figure out what you want to display on your screen. See below for some ideas on how you can use digital signage to keep your students informed, educated and interested.
Ways to use digital signage in K12 education
Digital signage is a highly visible, ever-present method of informing and engaging students. Here's why digital signage is a valuable EdTech tool for any classroom.
Assignment instructions
Digital signage can be used as instructional software in the classroom. Share instructions for an assignment or activity on your classroom display to avoid answering the same questions repeatedly. Digital signage helps you save time and go green by eliminating printed materials. Show writing prompts, math problems, grammar exercises, group assignments and more.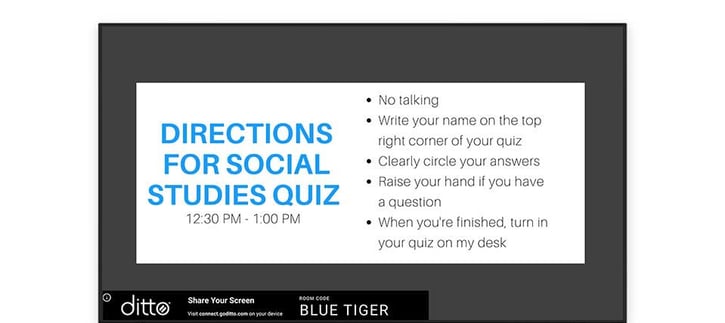 Display the daily schedule
Is there an early dismissal or school assembly? Let students know what to expect each day by using signage to share the school schedule or classroom agenda. We can't guarantee students will stop asking what time lunch is, but now you can just point to your classroom screen.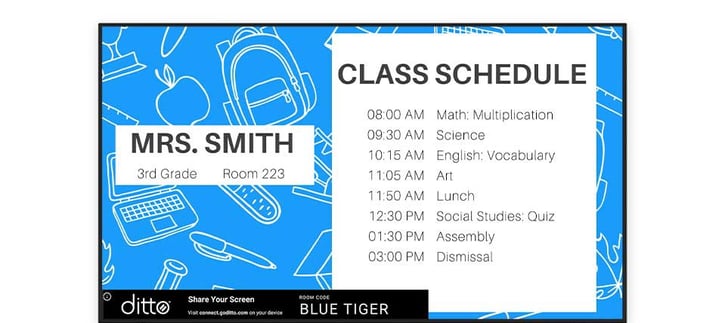 Make announcements
Keep students up to date with important announcements or reminders. Let them know about upcoming spirit days, parent-teacher conferences, field trips and other school events. Digital signage offers visual student reminders for exams, homework and project due dates.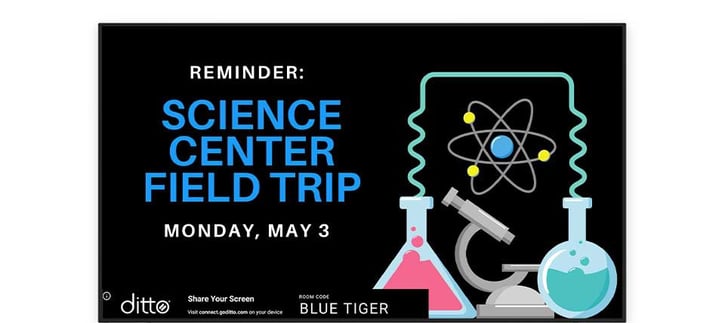 Recognize achievements
Did a student win a contest or award? Do you want to highlight this achievement? Use digital signage to display student spotlights. Use digital signage as a student of the month bulletin board alternative. This is a great way to motivate students and recognize them for their hard work.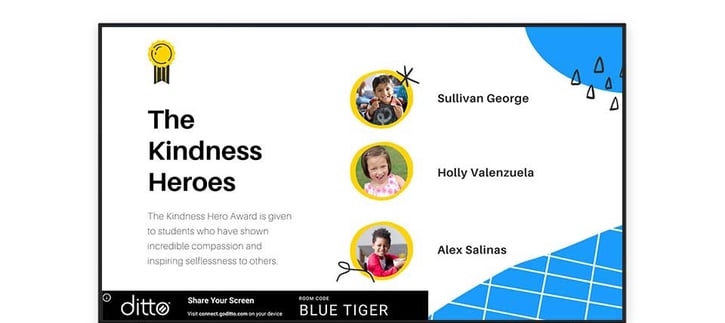 Showcase student work
Use digital signage to highlight student projects on the big screen. Whether it's for an open house or just for the class to see, showing recent artwork, science projects or other achievements can be a fun way to make students feel proud of their work.