Ditto vs. wePresent – Which is Better for Screen Mirroring?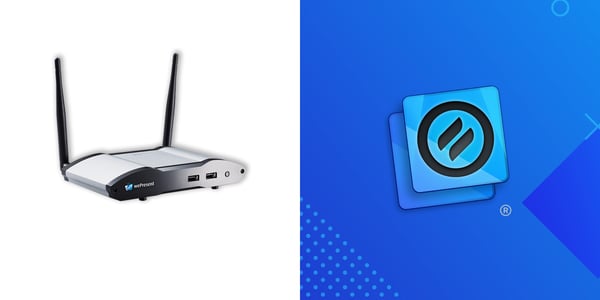 Weighing your options for screen sharing technology? We did the work for you: This article compares Ditto and wePresent.
Want to skip all the reading and speak to someone directly? Let's talk.
Key Points
Ditto is a screen mirroring software solution. wePresent is a screen mirroring hardware solution.
Ditto costs $150 and wePresent ranges from $500 to $1000.
Users connect to Ditto with a single app. Users connect to wePresent from several different sources depending on device and receiver type.
Software vs. Hardware
Ditto is a wireless screen mirroring software solution. wePresent is a wireless hardware screen mirroring solution.
wePresent utilizes a hardware box as a receiver. The receiver is connected to a network via ethernet and plugged into a TV or other primary display. Users connect to the receiver and share content through a downloaded app on their devices.

Ditto software runs on existing receiver hardware. Common receivers such as Apple TVs or Windows devices are connected to a TV or other display. Users directly share content to the display using an app.
Compatibility
Ditto supports devices running Windows, macOS, iOS, iPadOS, Android and Chrome OS. These devices use the Ditto Connect app to share content and screen mirror wirelessly to numerous compatible Ditto receivers. The user experience is consistent across all devices.
wePresent works with Windows, macOS, Android and Chrome OS devices and has limited compatibility with iOS devices. Users connect to wePresent with downloaded apps and in some instances can use native screen mirroring.
Wireless Screen Mirroring – Compatible Devices
Ditto:

wePresent:

✔

Windows

✔

Windows

✔

macOS

✔

macOS

✔

iOS

✔

limited iOS support

✔

Android

✔

Android

✔

Chrome OS

✔

Chrome OS

✔

iPadOS
An important note about wePresent compatibility:
wePresent apps have different functionality depending on a user's device and what receiver model is used. It may be difficult to remember which features and functionality are available on different apps and receivers for end users.
iOS devices cannot perform full screen mirroring using wePresent's app. The wePresent app for iOS can only present media files, documents and other static content.
Some functionality is only available if you purchase the higher-tier WiCS-2100 receiver. This includes:
The wePresent app for Chrome OS
Native screen mirroring and audio via Google Cast for Android and Chrome OS devices
Connections
Users connect and present with Ditto and wePresent in different ways.
How Connections Work
Ditto
The TV or primary display shows a unique room code. Users enter the room code into the Ditto Connect app on their device, and their device connects to the display. Users connect this way across all device types.
Desktop users can connect via a web browser if they don't want to download an app.
wePresent
There are several ways to share content with wePresent, depending on user devices and receiver model.